Map Name:
Lair
Author:
Rob West
Released:
20th June 1997
Rating:
91
Review by Kim Robinson on 25th November 2007
Another old map but with great gameplay, excellent design and a sense of purpose. Lair takes you to a moon mine with large cavernous areas, a decommissioned rail line and numerous control rooms - all of which have wonderful shading and texturing. When you're done blasting, grab your ammo and head back to meet Big Nose!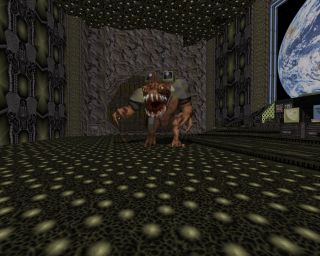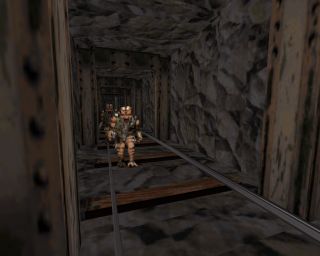 Gameplay Type: SP
Requires: Duke Nukem 3D v1.3d
Filesize: 48.78 KB

Download: Lair (316)
Other releases by Rob West: Slick
Know of any other maps from this author? Let us know
Mapping template:


Duke Nukem 3D .MAP Authoring Template v1.0
================================================================
Title               	: Lair
Filename      		: lair.MAP
Author               	: Rob West
Email Address     	: RWEST[at]mediaweb.es
Misc. Author Info:	

Description         	: Break-away Boss nests up in old moon mine
			  taking band of alien scum along with him.
			  Reports indicate rebellion in their ranks.
			  Duke finds himself behind bars but all that
			  is about to change...
			  
			  Playable sized map with some new effects.
			
			  Clue: you've got to turn the tables on that
				big guy...!  
			 
Additional Credits to   : The build builder
			  Cesc García for testing it out
================================================================

* Play Information *

Episode and Level #	:
Single Player           : Yes
DukeMatch Level  	: No
Difficulty Settings     : Not implemented

* Construction *

Base               	: New level from scratch
Editor(s) used		: Build
Known Bugs       	: none  

* Where to get this MAP file *

FTP sites:

BBS numbers:

Other:

                "Nobody steals my Maps and lives!"


							
Top of the page