Map Name:
Googolplex Communications Facility
Author:
Andrew Orman
Released:
17th September 1998
Rating:
89
Review by Kim Robinson on 28th July 2007
Googol is one of the largest levels you'll see - split off into four sections, each with creative puzzles to advance onto the next. The theme gets a little tedious after a while and sometimes it's easy to get disoriented, but the level flows rather well and layout is well thought out. Plenty of monsters to keep you busy (around 200), along with a few nice lighting and other sector effects.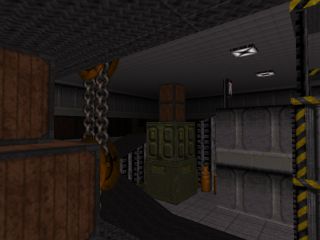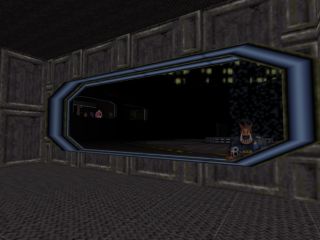 Gameplay Type: SP
Requires: Duke Nukem 3D v1.4+
Filesize: 85.43 KB

Download: Googolplex Communications Facility (380)
Other releases by Andrew Orman: Atmospheric Processing Facility
Know of any other maps from this author? Let us know
Mapping template:


Title                   : Googolplex Communications Facility
Filename                : GOOGOL.MAP
Author                  : Andrew Orman
Email Address           : aorman[at]hotmail.com
Misc. Author Info       : Insane Star Trek fan.
                          Check out my web page for more Duke levels!
                          http://www.geocities.com/Area51/Hollow/3396

Description             : This is the largest level I have ever built. Is it
                          the best? That's for you to decide. The level uses
                          1016 of the allowable 1024 sectors, 7008 of the
                          allowable 8192 walls and 1140 of the allowable
                          4096 sprites. It's divided into four sections.
                          Most of the dukematch start points are in the
                          Alpha section, but play can of course expand into
                          the other sections (I haven't tested this for
                          dukematch - it may be too big!)

Additional Credits to   :
================================================================

* Play Information *

Episode and Level #     : N/A
Single Player           : Hell Yes!
DukeMatch Level         : Yes (not tested, 8 start points)
CoOperative Play        : Yes (not tested, 8 start points)
Difficulty Settings     : Not implemented

NOTE: This level was built with/designed for the Plutonium Pak or
Atomic Edition (v1.5).

* Construction *

Base                    : New level from scratch
Editor(s) used          : Build, you fool!
Known Bugs              : None known.

* Where to get this MAP file *

FTP sites: cdrom.com
        My own web site (see address above)

Other: I suppose you could phone me at home and politely ask for a copy...:)

Other Maps By Me: Medical Station (MEDSTAT1.MAP), Clean Up Operations (CUO.MAP),
        Fresh Eggs (FRSHEGGS.MAP), Ghost In The Machine (GITM.MAP),
        1 To 32 Scale (1TO32SCL.MAP). All are avauilable from my web site!

While I was making this map, I didn't keep a close eye on the sector count
and I actually ran out! I had to go back and remove a lot of "decorative"
sectors, those that didn't actually affect the flow of the level. Once I
had made the map functional, I went back and replaced some of the detail.

							
Top of the page