Map Name:
Docking Doom
Author:
Lanna Deones
Released:
11th August 2000
Rating:
96
Review by Kim Robinson on 2nd August 2007
A very 'BobSP inspired' level set on a docking station where things have gone awry, there's tremendous attention to detail and great layout - easily having some of the best spritework you may ever see. The theme is very well done and keys are very well hidden (damn that blue one!), but gameplay is excellent and well worth your time!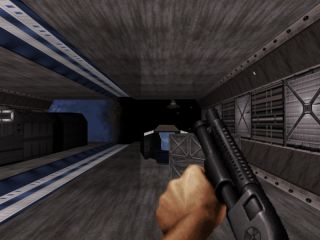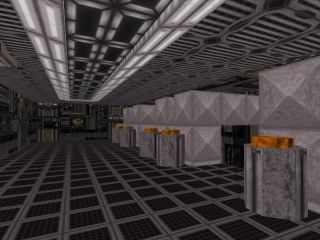 Gameplay Type: SP
Requires: Duke Nukem 3D v1.4+
Filesize: 86.90 KB

Download: Docking Doom (698)
Know of any other maps from this author? Let us know
Mapping template:


================================================================
Title                   : Docking Doom
Filename                : DD.map
Author                  : Lanna Deones
Email Address           : Girl_Online[at]hotmail.com
Misc. Author Info       : I'm just a regular gal working on Duke3d maps. 
I am on the SST_TC Team, and with the Warfare TC Team. (Both teams rock!)

Description             : Details: Duke is a regular cargo inspector, sent to
orbiting space docks to check for illegal cargo.  As a routine check up on the dock
station, Zero Alpha, finds Duke uninterested, a sudden distress signal comes up for
only a second.  Duke grabs his pistol and locks and loads.

	While Duke finds a docking port, he notices another ship come to the station,
figuring that it was a cargo ship, it was no threat to him.  Duke finds docking port
2, and readies himself of what might come.

I promise to god I'll never make another crappy map again.
(well, until the next time I don't care how the level ends)

Additional Credits to   : Bob, he helped me make the main corridor. My brother, for
stealing most of my coffee.
================================================================

* Play Information *

Episode and Level #     : 
Single Player           : Yes
DukeMatch Level         : Yes
Difficulty Settings     : Not implemented, but hard.

* Construction *

Base                    : New level from scratch
Editor(s) used          : Build
Known Bugs              : If you do not find a bug, e-mail me.
* Where to get this MAP file *

FTP sites: Where did you get this map?

BBS numbers: BBS??

Other: I'm sorry for making a map like this, the crappy quality of this map is so 
my fault and will never find this quality in any other of my maps.

							
Top of the page