Map Name:
Computer Mega Core
Author:
Reginukem
Released:
28th January 2003
Rating:
82
Review by Kim Robinson on 24th November 2007
A fun, long-winded map with action galore, Computer Mega Core plays like a well oiled machine. For the most part the design is alright - gotta love those blue corridors - though there's a few areas where a bit more attention to detail, shadowing, etc. could have been exercised. Nevertheless, the fun factor is right up there. There's some nice firefights and a couple of hidden areas to keep things interesting, and with a nicely climactic ending you'll be in for a treat. Take a gander!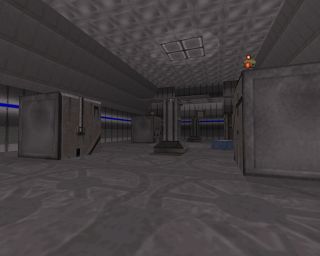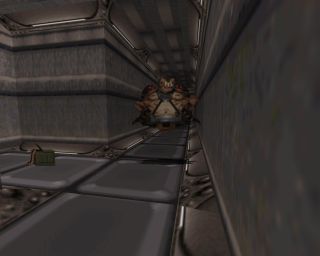 Gameplay Type: SP
Requires: Duke Nukem 3D v1.3d
Filesize: 43.00 KB
Level includes: new music, multiple difficulty settings

Download: Computer Mega Core (283)
Other releases by Reginukem: Crane Chase
Know of any other maps from this author? Let us know
Mapping template:



                     "THIS LEVEL IS NOT MADE BY OR SUPPORTED BY 3D REALMS"
              

Duke Nukem 3D .MAP Authoring Template v1.0


================================================================
Title                   : Computer Mega Core
Filename                : CMC.MAP
Author                  : Reginukem
Email Address           : Reginukem[at]bol.com.br
Misc. Author Info       : Old Duke fan and anime maniac!

Description             : This map is a cover, based in The Terminator: Future
Shock.
                          From Bethesda soft. Great game too.





Additional Credits to   : 3D Realms and the Duke's creators - Bethesda software. 
                          Thank you all.


================================================================

* Play Information *

Episode and Level #     : "Cover level" (Terminator Shock)
Single Player           : Yes
DukeMatch Level         : Yes
Difficulty Settings     : Yes
Cooperative 1-8 players : Yes (but not tested)
Atomic Edittion required: I made it in atomic edittion, but there's not atomic
textures, sprites
                          and monsters.

* Construction *

Base                    : New level from scratch
Editor(s) used          : Build for atomic edittion
Known Bugs              : Two switches do not work correctly (yellow keycard and the
bridge).
                          Use a shot or a kick. Nothing serious, donīt worry.
Build time              : 2 months more or less.

* Where to get this MAP file * He He ! you know...




Other:

 Dedicated to all Terminator fans.


 If you found an error let me know, ok?
 WARNING! I'm not responsible for damage caused by bad use of this file, if you want
to play you're in agreement whit this term. Make backups of your files.
 Said no to drugs!!!
Thank you for play my level and sorry for my poor english!
            
                          DUKE NUKEM 3D IS A SOFTWARE BY 3D REALMS.

							
Top of the page