Map Name:
Chinatown
Author:
John Minco
Released:
10th June 1997
Rating:
90
Review by Kim Robinson on 2nd August 2007
A truly awesome map with fantastic gameplay, nice design and a few nasty surprises which'll keep you on your toes. Enemies numbers are just right, as is the ammo if you use it sparingly. The great atmosphere owes largely to the ripped art, but the level has some great lighting effects and shadows so it doesn't rely entirely on the textures. Nothing much more to say - download it if you've not already.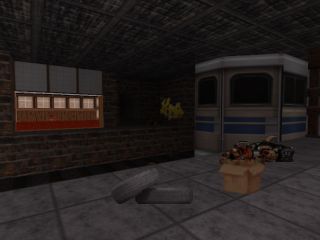 Gameplay Type: SP
Requires: Duke Nukem 3D v1.3d
Filesize: 480.77 KB
Level includes: new ART, new music

Download: Chinatown (534)
Know of any other maps from this author? Let us know
Mapping template:


================================================================
Title                           : Chinatown
Filename                        : 1HK.MAP
Author                          : John Minco
Email Address                   : Idminco1[at]ix.netcom.com
================================================================

Story:OK, this is real easy.  Those evil aliens are in 
Chinatown, so kill them.  Pretty good story, huh?    

Single Player           : Yes 
Co-operative 2-8 Player : Yes
DukeMatch 2-8 Player    : Yes
Difficulty Settings     : No, but I say its equal to
			  "Cme Get Some." 
New Sounds              : No
New Graphics            : Yes, from ShadowWarrior, a new game 
			  from 3DRealms
*************FEEL FREE TO USE THE NEW ART!!!!!!************* 	
New Music               : Yes,from ShadowWarrior

* Construction *

Base                    : From scratch 
Editor used             : Good old Build!
Build Time              : Way too long
Known Bugs              : There shouldn't be any


If you spread the map around, keep this text with it.  And you better 
 not put this on some crappy CD Collection Rip-off!!

E-mail if you like this level PLEASE!!!!!  Thsi is my first level 
 I thought was good enough to spraed around.
							
Top of the page