Map Name:
Baseneve
Author:
Tarcisio Jr. (Corvo)
Released:
24th August 2003
Rating:
79
Review by Kim Robinson on 7th March 2008
A small, icy arena which guarantees some nice action, but the level is too disjoint to allow it to play as smoothly as was probably intended. That being the only real bad note, the map does feature great shadows and nice atmosphere - and most of the more important weapons are out in the open anyway. Still well worth your while!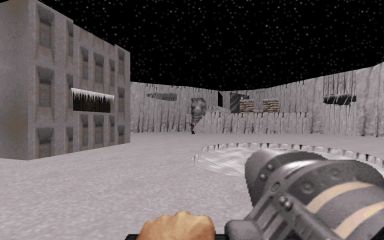 Gameplay Type: DM
Requires: Duke Nukem 3D v1.4+
Filesize: 14.91 KB

Download: Baseneve (156)
Know of any other maps from this author? Let us know
Mapping template:


I not speak inglish, (dicionari)
======================================================================
Level for duke nukem 3d 1.5

Title                 : quick dukematch in snow!
Filenames             : baseneve.map 
                        --------.txt
                        basebots.bat (very good!!!)
Author                : tarcisio jr. (corvo)
E-mail                : junior.tarcisio[at]ig.com.br
Other Levels          : various,

Description           : perfect map for a quick dukematch!

Additional Credits To : realhador and rachacuca (for tests, all brazilians)
                          
======================================================================

* Play Information *

Episode and Level #    : 
Single Player          : yes ( with monters )
DukeMatch 2-8 Player   : Yes!!!!!!!!
Cooperative 2-8 Player : no
Difficulty Settings    : no
Plutonium Pak Required : yes
New Art                : no
New Music              : no
New Sound Effects      : no
New .CON Files         : no
Demos Replaced         : no

=====================================================================

* Construction *

Base                   : New level from scratch
Level Editor(s) Used   : build
Construction Time      : 10 days, 1 hour day
Known Bugs/Problems    : minimous, (1 bug)

=====================================================================

							
Top of the page