Map Name:
Backfire
Author:
Charlie Vasquez
Released:
27th June 1996
Rating:
89
Review by Kim Robinson on 31st July 2007
One of the better 'house levels' from aeons past, Backfire is a reasonably fast-paced arena set in and around some blokes abode - weapons are evenly dispersed as are powerups, although you'll find most of the goodies in another house which can be accessed only via a secret place. Linearity is to a minimum, fun factor is high - check it out.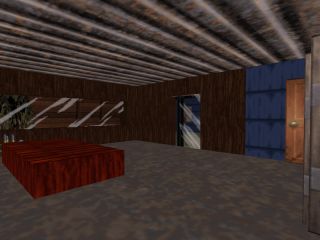 Gameplay Type: DM
Requires: Duke Nukem 3D v1.3d
Filesize: 83.78 KB
Level includes: new ART

Download: Backfire (211)
Know of any other maps from this author? Let us know
Mapping template:



================================================================
Title                   :BACKFIRE
Filename                :BACKFIRE.MAP
Author                  :CHARLIE VASQUEZ
Email Address           :HALEN0515[at]AOL.COM 
Misc. Author Info       :

Description             :MY HOUSE WITH A CAR. THERE ARE ALSO SOME 
                         SECRET PLACES THAT LEADS YOU TO ANOTHER HOUSE WHERE 
                         WILL FIND THE REST OF THE WEAPONS. SCOPE THE MAP UNDER
                         BUILD IF YOU NEED HELP.

Additional Credits to   :EVERYONE WHO PUT THEIR EFFORTS INTO MAKING THIS GAME. 
                         KEN SILVERMAN FOR MAKING BUILD AND EDITART. TEMPEST 
                         FOR HIS BUILD TUTORIALS AND GMOSER FOR HIS MAP FAQ. 
================================================================

* Play Information *

Episode and Level #     :
Single Player           : Yes
DukeMatch Level         : Yes
Difficulty Settings     : Not implemented

* Construction *

Base                    : New level from scratch
Editor(s) used          : BUILD
New Art                 : YES
Known Bugs              : SOME DOORS LIKE THE CUPBOARDS AND STUFF WOULD OPEN 
                          THE WRONG IF YOU WALKED UNDER THEM SO I BLOCKED THEM
                          WITH THAT PURPLE LINE. NO BIG DEAL.

* Where to get this MAP file *

WWW.GEOCITIES.COM/TIMESSQUARE/3488/DUKE.HTM
HTTP://VIRTUALTIMES.COM/VIDGAMES/DUKE3D
IF YOU HAVE THIS MAP THEN YOU'LL KNOW WHERE TO GET IT

Other:  THERE IS SOME NEW ART. I'VE INCLUDED TILES014.ART SO IF YOU HAVE YOUR 
        OWN, MAKE A BACKUP. PLEASE DON'T CHANGE THIS MAP THEN POST IT.
        



							
Top of the page