Map Name:
Azneer Building
Author:
Brian C. Sasso (Mr. Zero)
Released:
18th July 1996
Rating:
82
Review by Kim Robinson on 31st July 2007
A rather nicely put together map with solid gameplay, and although its design sometimes leaves a little to be desired it's still quite a lot of fun exploring. There's a couple of easy puzzles, mostly key hunting, as well as a fair few enemies to get your blood pumping. Take a look!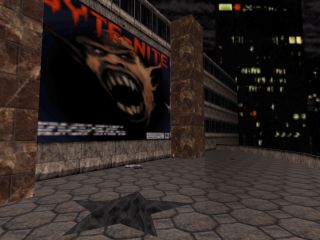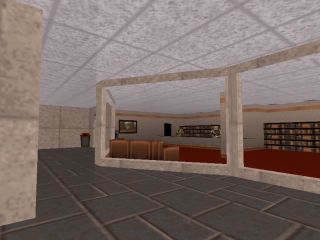 Gameplay Type: SP
Requires: Duke Nukem 3D v1.3d
Filesize: 54.20 KB

Download: Azneer Building (328)
Know of any other maps from this author? Let us know
Mapping template:


================================================================
Title                   : Azneer Building v1.3
Filename                : AZNEER13.map    
Author                  : Brian C. Sasso (Mr. Zero)
Email Address           : bcsasso[at]stu.uomhs.edu or MRxZERO[at]aol.com
Misc. Author Info       : TEN user name: MR-ZERO
Description             : This map is modeled after a multi-purpose
                          builing at the medical school I attend.
                          It includes a large outside area, library,
                          bookstore, lecture hall, student and faculty
                          lounges, and computer room... along with a 
                          few secrets you'll have to find on your own.
                          Check it out just to see the foosball table!

Additional Credit to    : Klaus Breuer and Brett Gmoser for their 
                          excellent editing FAQs.     
                           
================================================================

* Play Information *

Level #                 : User Map
Single Player           : Yes
Cooperative 2-8 Player  : Yes
Dukematch 2-8 Player    : Yes
Difficulty Settings     : No
Monsters                : Yes
New Graphics            : No
New Music               : No
New Sound FX            : No
Demos Replaced          : No
									  
** Build Information ** 

Base                    : New level from scratch
Editors used            : BUILD.EXE 
Build time              : 200+ hours (I don't post crap)
Known Bugs              : Only bug not squashed is that when activating
                          the security screen near the pool table, the 
                          balls can be moved through the wall...however,
                          this can be useful in setting up traps:)
                          Email me if others are found.

** Copyright / Permissions **

Authors MAY NOT use AZNEER13.MAP as a base to build additional levels.

You MAY distribute AZNEER13.MAP, provided you include this file, with
no modifications.  You may distribute AZNEER13.MAP in any electronic
format (BBS,Diskette,CD,etc.) as long as you include this TXT intact.

You MAY include AZNEER13.MAP in any compilation. You may not alter the level 
in any way except the minor change of the MAP number.

** Where to get this MAP **

If you don't know, I'm not going to tell you!


							
Top of the page