Map Name:
AlphaCity
Author:
Markus Schopf (Suppressor)
Released:
4th June 2004
Rating:
91
Review by Kim Robinson on 12th August 2007
A great urban level from a relatively unknown author, AlphaCity is huge, nicely detailed and has more than reasonable gameplay. The level supports different difficulty settings as well, so if it's a little easy the first time around you can always jack the skill up a few notches. Design and layout are well thought out - the whole thing is very visually appealing. While the starting areas are very bare and the subway system is quite simple, the street scenes make up for this.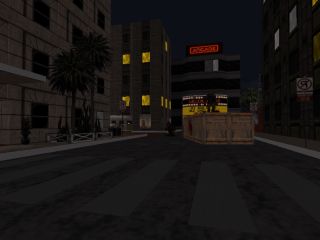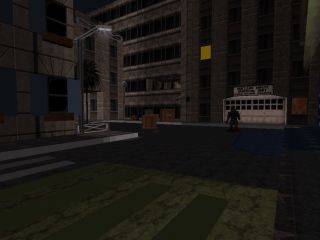 Gameplay Type: SP
Requires: Duke Nukem 3D v1.3d
Filesize: 130.56 KB
Level includes: multiple difficulty settings

Download: AlphaCity (535)
Other releases by Markus Schopf (Suppressor): Redrock
Know of any other maps from this author? Let us know
Mapping template:



======================================================================
Title                 	: AlphaCity
Filename              	: Alphacity.map
Author                	: Markus "Suppressor" Schopf
E-mail                	: Suppressor[at]web.de
Web Page              	: none
Misc. Author Info     	: 28 May 2004 
Other Levels          	: not bublished
Size 			: ca. 456kb
		
short Description       : A big city map. Cool effects, detailed architecture, and
nearly perfect design. 
			Have fun! 
                  

Additional Credits To 	: My brother for testing this level!
                          
======================================================================

* Play Information *

Episode and Level #    	: User map
Single Player          	: Yes
DukeMatch 2-8 Player   	: No
Cooperative 2-8 Player 	: NO
Difficulty Settings    	: Yes, easy, normal, hard, and damned hard
Plutonium Pak Required 	: NO
New Art                	: NO
New Music              	: No
New Sound Effects      	: NO
New .CON Files         	: NO
Demos Replaced         	: No

=====================================================================

* Construction *

Base                   	: New level from scratch
Level Editor(s) Used   	: BUILD (and modified build version for Windows XP)
Art Editor(s) Used     	: none
Construction Time      	: nearly one year
Known Bugs/Problems    	: Runs fine on AMD Athlon mobile 2400 MHz MMX ;)

=====================================================================

*Important Information*



Important Notes        	: This map demonstrates a way to construct
                         buildings with interiors,a sub-trainsystem and a 
			A --> B trainsystem, including many effects!
                                                    
======================================================================

							
Top of the page