Map Name:
Operation: Get Bike Back
Author:
William Gee, Merlijn van Oostrum, Maarten van Oostrum
Released:
19th June 2003
Rating:
97
Review by Kim Robinson on 7th March 2008
A new city map packed full of explosion-prone buildings, monstrous enemies and excellent gameplay - you'll have a blast playing this one as you try to recover your stolen bike. Detail is superb and everything is in its right place, there's quite a few key cards and puzzles and such but this doesn't matter, the level flows very smoothly. Get it now if you haven't already!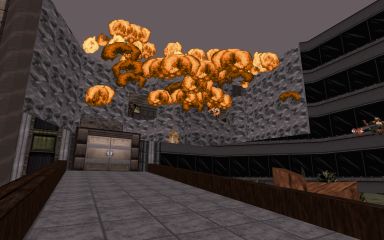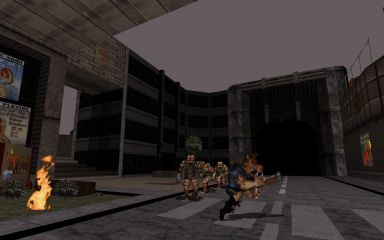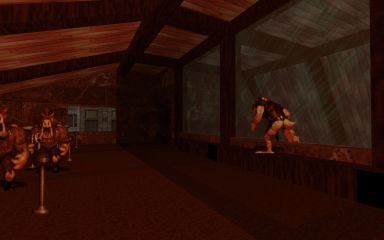 Gameplay Type: SP
Requires: Duke Nukem 3D v1.3d
Filesize: 487.01 KB
Level includes: new sounds, multiple difficulty settings

Download: Operation: Get Bike Back (964)
Know of any other maps from this author? Let us know
Mapping template:




title		: Operation: Get Bike Back :)
Filename	: OGBB.map :-)
Authors		: Willam Gee (Willy), Merlijn van Oostrum (Mrline),
	   	  Maarten van Oostrum (Maartn)

E-mail adress	: merlijn_redhot[at]hotmail.com oostrum_maarten[at]hotmail.com
geewillywizz[at]hotmail.com
Authors Info	: 3 Metal fans :)

Release Date	: 20 June (20-06-03)

Other levels	: Maarten:
		  Maa2 (The big city)
		  MaaDM (you can't find this on site's though).
		  MaaDM2
		  Maads (Maarten Desert)
		  Toxicity
		  MaaDM: Temple of Death
		  Alien planet: X64-2
		  And tons of crappy old or unfinished maps which is never released :)

		  Merlijn: red1 t/m 4 :P
			   tunnels
			   one level 4 BN
			   dozens of unfinished maps :)

		  William:
                  SP=
                  WGDOOM1
                  Alienx
                  WGSPace 1, 2, 3
                  DM=
                  Labrenth/Lots
                  Labrenth2
                  ww2
                  WGDM 1, 2, 3



Web page	: Njah! :)

Future levels	: dunno :P

_______________________________________________________________________________


Description 	: Just another city map, surprise surprise! :P

Mission/plot	: The aliens stole your bike!!! The bastards! Get it back
		  before they use it to conquer the world!!! :P
History
of the map	: William Gee:
                  Well iv wanted to build a map with anather person for agees and ive
always
		  wanted to build one with Mrline cause he also builds large areas so I asked lol
;)
                  He sent me a map he had already started had about 20 sectors and
some nice
                  spritework, so i built on it strait away and sent it back that day
:D Then
                  We discussed what the storyline should be and both of us agreed
that it
                  should be something commicle/stupid (none seriouse) So we came up
with
                  "Operation get back bike" ;) Then Marrtn joind in aswell so the
project
                  was off with a shot. I personaly found this map more enjoyable
buiding on
                  than anything i have ever built!

		  Mrline:
		  Somewhere in Januari I wanted to do something aside to red4 and I started
		  a map wich supposed to be a city-themed dm map . But after I made 1 building
	          (the first one with the sprite balconies) I stopped building on it :P
		  Until months later (after red4 was released) William suggested to make a map
		  together. I liked the idea and suddenly rembered the dm-map, so I sent it to
		  him lol. He liked it and immidiately built a huge part on it wich looked
		  awesome! I was like: wow this is going to be great! :D
		  After that, the ridicilous story was made up and my brother joined.
		  Progress was going very fast, sometimes I recieved the map back after 1 day
		  allready!! I personally really loved working on this map, it was great fun
		  and I really love the results!!
		  Big challenge 4 me was making a shop without the 1.4 shop-textures lol.

		  Maartn:
		  Well, what can I say now lol? :P I did join with this project cuz I really
		  liked the idea to build a city map together with William and Mrline ;) Also I
		  wanted to build something else again after all that alien shit I made
		  in Alien planet X64-2 (you can find some familair thingz of it though :D).
		  The really funny thing of this map was we sent the map to each other all the
		  time and built something free what we like, so without plans! And I think
		  the results are great! Personlly I love the map :) Also you really can see
		  the different styles of our 3 :) I almost can't believe we did finish a quite
		  big city already in 3 months! It was going really fast (somethime a small
		  break though). Also, nobody knew anything of this map before which was funny.
		  To give the map a litle extra I made that sound of the band metallica lol :)
		  I loved to work on this map!

		  Play this map now! :)

_______________________________________________________________________________


* Play information *

Episode and level    : No OGBB episode :)
Single Player        : Yep :)
DukeMatch Level      : no
Cooperative Match    : yes
Difficulty Settings  : Oui
Atomic Pack Requied  : No. It has only 1.3. textures.  But it seems it don't work
fine with 1.3
		       for some strange reasons :(
New Art	             : No
New Music	     : No
New CON-Files	     : No
New Sounds	     : N.. yes :) A supercool metallica sample lol
Demos Replaced       : We're crazy but not that crazy :P
_______________________________________________________________________________


* Construction *

Base		     : New level from scratch
Level editor(s) used : Probably build?
Construction time    : About 2/3 months, very fast :D
Known bugs/problems  : maybe some spritework "bugs" but as far as we know nothing
serious

* Were to get this MAP file *
File location	     : All duke sites (we hope :P)

* How to start this map *
You know ;)
_______________________________________________________________________________

* Thanks to *

-The author of the golden oldie map called "warzone" :)
-The duke comunity :)
-Metallica, 4 making great music :P
- Da beta testas
  *Kevin Cools (a.k.a Kuffi a.k.a Kef Nukem a.k.a Duke kef etc. :P )
  *Alejandro Glavic
  *Mikko Sandt
  (big thanx!)
_______________________________________________________________________________

* Extra information *

-Map is quite action packed lol. Over 100 enemies and even more explosions :) Eh..we
won't tell
more :P
-Coments about this map are welcome, we realy like to know what you think about our
work ;-)

* Copyright (or copyleft :P ) *

Of course you MAY put this level on your site IF you tell us via e-mail.
and you MAY NOT copy things from this map,
and you MAY NOT rip anything from this map (without asking)
You MAY NOT spread this MAP under another name and/or without this TXT-file...
Oh and you MAY NOT rip the  metallica sample!
You MAY NOT smoke or drink while playing this map.
You MAY NOT listen to westlife while playing this map
You MAY NOT support terrorism while playing this map
You MAY NOT kill your guinea pig while playing this map
You MAY NOT take these stupid jokes seriously :P

*** Last very extremely important thing: HAVE FUN!! ***





EBIH!
You MAY join in the EBIH club :P






							
Top of the page