Map Name:
Russian Community Build Project 2
Author:
Community
Released:
22nd December 2008
Rating:
82
Review by Forge on 28th December 2008
A large map with a decent layout and simple design. Duke starts out on a roof of a tall building armed with nothing but a pistol. Taking out the few enemies in his way and collecting some ammunition he must drop down a buggy vent that can only be approached from a certain angle and drop down into the building. Duke must then make his way through the building and out to the street all the while collecting a few weapons to add to his arsenal. Once on ground level Duke gets his first opportunity to use a guided missile launcher. It's rather difficult to get the rocket to launch without blowing up a foot from the base. Once it's airborne it's pretty easy to control, but after it explodes, Duke is facing in some odd direction instead of at still at the controls. Duke must then make his way through a warehouse with a simple puzzle to solve, or you can use the dukebot's head to jump off of instead of trying to move barrels that don't drop where you try to place them. A few key cards later Duke moves to a different building, then to the sewers and sewage treatment plant, back out to the street and up on the roof tops again where the second rocket launcher awaits use. This launcher is a bit more difficult to operate as Duke must be standing in the exact perfect spot in order to fire it. Duke finally makes his way through to a harbor and after killing a few badies its on to the exit. Overall the map is rather average looking; some areas are made by more skilled mappers and this is reflected in detailing, shading, choices of and the use of textures, layout, design, and architecture. Some areas of this map are very well done while others are just drab hallways with a few redundant and under worked rooms. Because of this, the transition from one area to the next isn't done very smoothly. Game play however is fairly even throughout. There's a few simple puzzles, finding most of the key cards is fairly easy and the arsenal, available health and ammunition is evenly matched for the normal and modified aliens.
For those that like some decent gun battles and their navigation simple.
Texturing/Lighting-Shading: 7/10 Sprite Work/Detailing:6/10 Ambiance: 6/10 Architecture/Design: 17/20 Layout: 18/20 Gameplay/Difficulty: 28/30 Overall: 82/100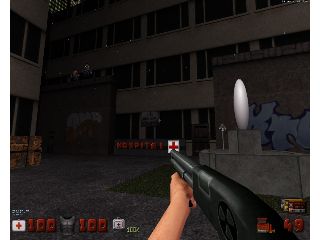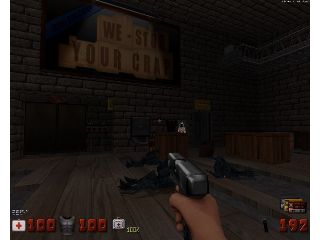 Gameplay Type: Sp
Requires: Duke Nukem 3D v1.4+ and JonoF/EDuke32
Filesize: 2.38 MB
Level includes: new CON code, new music, new sounds

Download: Russian Community Build Project 2 (983)
Other releases by Community: 2-Hour CBP, BJ Shrine (CBP1), Community Build Project 2, Community Build Project 3, Community Build Project 4, Community Build Project 5, Community Build Project 6, Community Build Project 7, Duke is ten, Duke Plus Community Build Project - DPCBP, JFCBP1, JFCBP2, Russian Community Build Project, Suburban Hive
Know of any other maps from this author? Let us know
Mapping template:


Title                 : RCBP II ( Russian Community Build Project II )
Filename              : RCBPII.ZIP
Released in           : 2008 ,22 December


Authors : 
			LipShez
                     Zukov Eddy
                     Sanek
                     DNV
                     M210
                     Alexander Gorshkov
                     Nicolas
                       
                        

Leaders : LipShez and Eddy Zykov
Leader until 17.12. : Sanek
Coders : Zykov Eddy and LipShez 
Txt file creater : Sanek

======================================================================

Part 01 |LipShez
Age : 21
Description: I started this map.
My part includes some scripting innovations such as player-control rocket autocannon

and heat seeking RPG projectiles while NVG swithed on.
My piece ends when you take the first keycard, there also begins the Eddy's part.
======================================================================

Part 02 |Zykov Eddy
Age: 15
Description: My part is dark deserted store house,
include some new tricks, puzzles and con effects.
Hard sometimes...
     

=====================================================================
Part 03 | Sanek
Age: 14
Description: Yea, this is Sanek, Alexander, Thief, bla bla bla etc. 

My part - is a small Hospital near the LipShez 's part.
Part is not so good, but is not so bad. Medium. Have some new effect's by Zykov.

=====================================================================


Part 04 |DNV
Age: 19
Description : My part begins before descending into sewer and finishes in the
garage,
where one must insert the blue key card.
My part consists of 2 secret areas, 2 key cards and 80 monsters.

======================================================================
Part 05 | M210
Age:21
Decription: My part is the thrown station of underground 
with transition in the flooded cellar and an exit on street.
Nothing included.

====================================================================
Part 06 |Alexander Gorshkov
Age: 28
Decription:I had a little time, so my part is not so big...

======================================================================
Part 07 |Nicolas
Age: 22
Decription: dock.....good dock....

======================================================================
Part 08 |Zykov Eddy
Age: 15
Decription: Final of the level (helicopter area) . Done ! 

======================================================================


* Play Information *

Single Player          : Yes
DukeMatch 2-8 Player   : No
Cooperative 2-8 Player : No
Plutonium Pak Required : Yes
New Art                : No
New Music              : Yes
New Sound Effects      : Yes
New .CON Files         : Yes
Demos Replaced         : No

=====================================================================

* Construction *

Base                   : New level from scratch
Level Editor(s) Used   : BUILD,Mapster32,LeBuild
Construction Time      : 2 month + 22 days

                         

							
Top of the page