Map Name:
JFCBP1
Author:
Community
Released:
3rd November 2006
Rating:
93
Review by Kim Robinson on 13th January 2008
Yet another smashing release from some of the best mappers the community has to offer, JFCBP1 is the first Community Build Project to make use of the extended map limits given by the JonoF/EDuke32 ports - so of course one of either is required to play. The theme remains more or less consistent through-out the level, that is, industrial slash hi-tech, though there's a few city and 'domestic' elements in parts to break things up a bit. Design is of quite a decent standard, though it is entirely obvious where some of the more experienced mappers have lent their hand. A few of the high-tech areas look simply superb, the attention to detail, architecture, shading and atmosphere absolutely top-notch.
Gameplay-wise things seem slightly haphazard. There's no real sense of purpose as the player progresses from one area to the next, except to explore each contributing author's addition, grab a keycard or two and head on to the locked door it corresponds to - though without considerable planning and foresight on the part of each author it would be difficult to create anything much different in a project like this. There's a main hallway the player returns to a couple of times, each time faced with new adversaries, which was a nice touch. That said, there's nothing wrong with how the map plays - treating each author's section as a 'mini-level' with enemies to blow up and challenges to overcome has its merits.
In all, a fun romp through some very well designed environments and some nice firefights well worth firing the game up for. Check it out.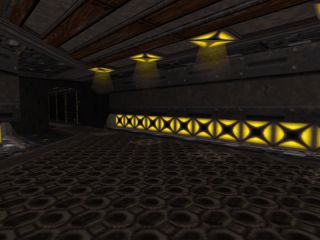 Gameplay Type: SP
Requires: Duke Nukem 3D v1.4+ and JonoF/EDuke32
Filesize: 197.14 KB

Download: JFCBP1 (475)
Other releases by Community: 2-Hour CBP, BJ Shrine (CBP1), Community Build Project 2, Community Build Project 3, Community Build Project 4, Community Build Project 5, Community Build Project 6, Community Build Project 7, Duke is ten, Duke Plus Community Build Project - DPCBP, JFCBP2, Russian Community Build Project, Russian Community Build Project 2, Suburban Hive
Know of any other maps from this author? Let us know
Mapping template:




======================================================================

Title                 : JfCBP1 (Jonof's port Community Build Project 1)
Filename              : JfCBP1.map
Released in           : 2006


Author (in order of appearence): James Stanfield (Jstanf35[at]hotmail.com
                        Geoffrey Van Dijk
                        Mikko Sandt
                        Quakis
                        Merlijn Van Oostrum
                        Maarten Van Oostrum
                        William Gee
                        MetHunter

Where to get this map:
			http://www.planetduke.com/msdn
	                http://www.planetduke.com/amc

James' part:
My part is a quake-style area, with a cold outside area. Originally it was intended
for Classic mode without HRP but I'm sure it looks fine in OpenGL. The map ground to
a complete halt due to commitments in real life as well as other projects, but
eventually the project picked up steam again and is now finished since you're reading
this. I hope you enjoy the map and the work we put into it, and I'm sure that I'll
personally take part in another CBP project soon enough.

Geoffrey's part:
..sorry ¯\(º_o)/¯

Mikko's part:
You're dropped to my part from Geoffrey's (that's Fakir!) cool complex of corridors
and the part lasts until you pass the "Messhall" door to Q-dude's part. The part is
very basic in terms of both gameplay and details. It's a bit too x-axis but I had
only 800 walls to work with. This is also why I wasn't able to add many cool
lightning tricks. I had problems aligning textures and shading due to whatever reason
- could be because I started by copying the sky and some textures from Q-dude's part.
The outdoor part is maybe a bit Q2ish. I tried to stick with the theme the map had so
far. As for the strange white place - I had ran out of walls at this point so I
couldn't even insert a simple point. So adding this strange white place was the
lesser bad thing to do.

Quakis's part :
My last CBP due to the quality I make my parts, low. I was never happy with my first
area I built which was some grey area without much of a purpose. Therefore I used a
detailed cafe I worked on for another project since I was afraid it'd never get used
and go to waste. This also breaks up the high tech theme a bit for few minutes.
Better than before but still not happy with it, I can do so much better but I never
felt like working on it, don't expect anything special in my part.

Due to some misunderstanding of an unfinished map in a pack Kuffi released, which is
originally mine, I now have two parts. The second being a bar area. This originally
was going to be a small CBP with Kuffi but it never got anywhere. Methunter also did
some extra tweaks to the section as well but it's still a bit empty, yet we wanted to
get this thing out as soon as possible.

Merlijn and Maarten's part:
Our part (the Oostrum facility) is yet another hi-tech base, a very detailled an dark
one.
Mostly inspired by Doom3. The central room is even completely based on a Doom3
location.
Looks best with hi-tile, some parts might be too dark when you use classic mode.
Have fun!

MetHunter's and Quakis's parts :
I (MetHunter) built from the sewers area after Willy's part to the end of the map.
Except for the concert room which was given to the project by Quakis, but I added
toilets to it and I filled the stage and the aquarium.
It is best played using the HRP.



Description           : A CBP utilising Jonof port's new build limits to make
                        a bigger and more detailed map.



Additional Credits To : The Duke Community for still being here
                        3DRealms for Duke Nukem 3D
                        Jonof for his excellent port
                        TerminX for Eduke32
                        And of course you for playing this

======================================================================

* Play Information *

Single Player          : Yes
DukeMatch 2-8 Player   : No
Cooperative 2-8 Player : No
Plutonium Pak Required : Yes
New Art                : No
New Music              : No
New Sound Effects      : No
New .CON Files         : No
Demos Replaced         : No

=====================================================================

* Construction *

Base                   : New level from scratch
Level Editor(s) Used   : BUILD/Mapster32
Construction Time      : About a year
Known Bugs/Problems    : None significant
                         
=====================================================================

*Important Information*

Installation           : Extract this map to your Duke Nukem Atomic edition
directory, than
                         select it from the menu in either JfDuke or Eduke32

Important Notes        : Nothing except for Enjoy!


=====================================================================


							
Top of the page