Map Name:
Community Build Project 5
Author:
Community
Released:
17th March 2004
Rating:
95
Review by Kim Robinson on 31st July 2007
The fifth 'CBP' to grace our screens, this one actually plays a little more like a level than a disjointed mish-mash of different themes. Although you'll still find a junk yard, quite a lot of urban bits and some alienesque parts - it all goes together rather well and makes for a solid 20 to 30 minute play. Design is good for the most part, shading/lighting the least of concerns. Grab it now!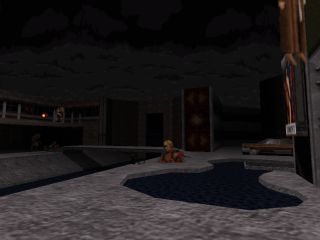 Gameplay Type: SP
Requires: Duke Nukem 3D v1.4+
Filesize: 117.47 KB

Download: Community Build Project 5 (462)
Other releases by Community: 2-Hour CBP, BJ Shrine (CBP1), Community Build Project 2, Community Build Project 3, Community Build Project 4, Community Build Project 6, Community Build Project 7, Duke is ten, Duke Plus Community Build Project - DPCBP, JFCBP1, JFCBP2, Russian Community Build Project, Russian Community Build Project 2, Suburban Hive
Know of any other maps from this author? Let us know
Mapping template:


======================================================================
Title                 : CBP5 "Community build project 5" :P 
Authors               :

1st William
2nd Maartn
3rd Mrline 
4th M Sandt
5th Alejandro
6th nobody cause this person quit. pitty muahahahahaha :D 
7th Rusty_Nails
8th Zilla
9th Jblade35
10th Mblackwell 

Description:  CBP Commuinity build project
Dark scary snowy city map. play it and enjoy :P
And save often cause its hard ;)

Comments and other stuff from Authors 

Name: Merlijn van Oostrum (mrline)
Age: 19
Location: The netherlands 
email: merlijn_redhot[at]hotmail.com
Webpage: www.geocities.com/redepisode
Part description: Well my part is the whole section behind the yellow-keycard-door.
It's pretty big (I exeeded the limits lol, sorry about that guys!) and is set in a
admospheric abandonned industrial site, including a junk yard and some control rooms 
That's all. Also added some gameplay and small stuff troughout the rest of the map
with Maartn. Have fun playin' 

Name: Rusty Nails / Fritzon
Age: 15
Location: Sweden
Email: R_nails20[at]hotmail.com
Part description: I built the whole disco thing as well as that iivul little room in
Mikko's part with the satanic cross in. Datz ist allz.

Name: Mblackwell
Age: 19
Location: MN, USA
email: mblackwell1024[at]yahoo.com
Part description: Large trashed city area covered with blood. 

Name: James Stanfield
Age: 16
Location: England
email: Jstanf35[at]hotmail.com
Part description: My area is a Funeral directors! It's something that hasn't been
done much before so I thought I'd give it a try. The name 'Wright Towers' is jsut the
last names of 2 of my friends - original huh?  

Name: Maarten van Oostrum (in the forums it's Maartn).
Age: 16
Location: The netherlands.
email: oostrum_maarten[at]hotmail.com
Part description: Since this map was meant to be scary and since many of you liked my
Alien Planet X64-2, I decided to do that again. Only this time it's all covered with
a creepy blue pall (so you know if you walk in the blue places, it's from me ). My
part is pretty long and won't be too easy to pass (I think). Well have fun with it.
BTW: I've also added the gameplay in Mikko's , and Zilla's part (two parts before
mines) since these two weren't active during the adding of gameplay.  


Name: William Gee
Age: 22
Location: New Zealand
Email: geewillywizz[at]hotmail.com
Webpage: www.geocities.com/wgrealms
Part description: I made the begginning area with the river car spritework transport.
I also made the explosions at the end of the map.
                                               
                          
======================================================================

* Play Information *

Episode and Level #   : *
Single Player         : YES! 
DukeMatch Level       : no!
Difficulty Settings   : NO! 
Version               : 1.4 Atomic YAY


* Where to get this MAP file *

http://www.planetduke.com/kef 
http://www.planetduke.com/AMC
http://www.planetduke.com/MSDN
http://www.bur.st/~duke3d

...................................... PLEASE FEEL FREE TO EMAIL US WITH YOUR
COMMENTS!!!!..................................



							
Top of the page