Map Name:
Russian Community Build Project
Author:
Community
Released:
18th October 2008
Rating:
81
Review by Forge on 1st December 2008
The aliens have taken over another base. It's winter, it's cold, Duke's pissed, it's time to go. But first there's some alien ass that needs to be kicked.
A medium sized map with a simple layout and design. As with several community build projects, different areas are more detailed than others. With the exceptions of the beginning and the end; which were pretty vanilla and without much shading, sprite work, or architecture; the map is on par with average texturing and other visual and design effects. Other than a few oddities such as: the incredibly long train ride (I could have made a sandwich and ate it before I reached the end of the line), and that the map starts in day light, but after a short period in an interior portion, it's suddenly night then at the end it's day again; the map maintains the frozen arctic base atmosphere.
Game play is pretty straight forward and even throughout with some decent enhancements from the supplied con file. The enemy-weapon-ammunition distribution is fairly even the entire map, with just a bit more health than necessary. There are a few keys to find, but that should prove no difficulty in the simple layout, and one nice puzzle to solve. This is basically a move from one end of the map to the other while shooting a few baddies on the way styled map. The ending to me turned out to be rather a let down as I was expecting a little more of a challenge to get to the exit.
Texturing/Lighting-Shading: 6/10
Sprite Work/Detailing-Architecture: 6/10
Ambiance: 17/20
Layout: 16/20
Gameplay/Difficulty: 36/40
Overall: 81/100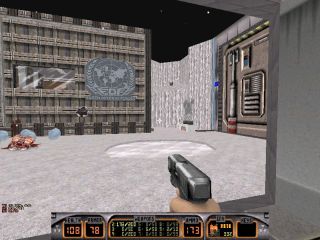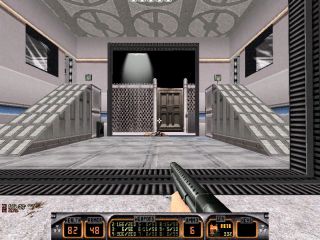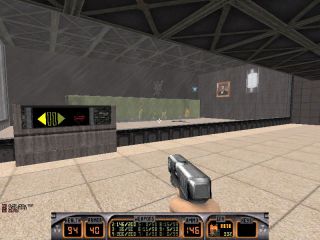 Gameplay Type: SP
Requires: Duke Nukem 3D v1.4+
Filesize: 194.31 KB
Level includes: new CON code, new music

Download: Russian Community Build Project (387)
Other releases by Community: 2-Hour CBP, BJ Shrine (CBP1), Community Build Project 2, Community Build Project 3, Community Build Project 4, Community Build Project 5, Community Build Project 6, Community Build Project 7, Duke is ten, Duke Plus Community Build Project - DPCBP, JFCBP1, JFCBP2, Russian Community Build Project 2, Suburban Hive
Know of any other maps from this author? Let us know
Mapping template:


Title                 : RCBP ( Russian Community Build Project )
Filename              : RCBP.map
Released in           : 18 October 2008


Authors : 
			Sanek
                        Zukov Eddy
                        The Lezing
                        Alexander Gorshkov
                        LipSheZ (fixed some shit)
                       
                        



======================================================================

Part 01 |Sanek
Age: 14
Description : I'm the leader of the project,and my part is first.
My part was made for 30 minutes.
All what I did - until''Gamma''sector.
Some time, the player will have to proceed underwater.fully made in Mapster editor

======================================================================

Part 02 |Zukov Eddy
Age: 15
Description:My section of the map is fully made in Mapster editor.
It consists of some new effects, pazzles, monsters, items and takes several minutes
to play.
All new effects and items was coded by me.
     

=====================================================================
Part 03 | The Lezing
Age: 18
Description: My section of the map is fully made in LEBuild editor.
 It consists of 452 sectors, 2900 walls, 1765 sprites and takes several minutes to
play.
 I've realized some realistic lighting, detailed spritework and an interesting puzzle
solving which is necessary to reach the next section.
 I know there is some visual glitch when the transport enters the tunnel but I
decided to leave it as is 'cause there would be no way to make any details on its
path...
 

=====================================================================
Part 04 | Alexander Gorshkov
Age: 28
Description: I have done their part in the "aliens-style".
Part difficult in some places.
This is my first release in the past 10 years



=====================================================================
Part 07 | Sanek
Age: 14
Decription: Small Final of the level.Created in 5 minutes

====================================================================



======================================================================

* Play Information *

Single Player          : Yes
DukeMatch 2-8 Player   : No
Cooperative 2-8 Player : No
Plutonium Pak Required : Yes
New Art                : No
New Music              : Yes
New Sound Effects      : No
New .CON Files         : Yes
Demos Replaced         : No

=====================================================================

* Construction *

Base                   : New level from scratch
Level Editor(s) Used   : BUILD, Mapster32, LEBuild
Construction Time      : 1 week
Known Bugs/Problems    : 
                         
=====================================================================

*Important Information*

Installation           : Extract this map to your Duke Nukem Atomic edition directory
							
Top of the page