Map Name:
Island1
Author:
Georg Buol
Released:
28th May 1996
Rating:
69
Review by Kim Robinson on 2nd August 2007
A shockingly old map dating back to 1996 (and one which sometimes leaves level design a bit lacking), Island1 remains a fun, five minute adventure through a cliff-side system of passages and submerged tunnels. Plenty of monsters hanging about, more than enough ammo to dispense them with. There's no puzzles, just survive until you find the nuke button.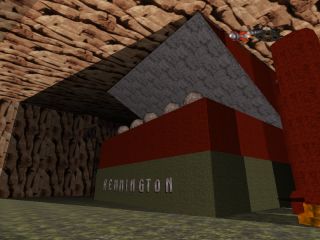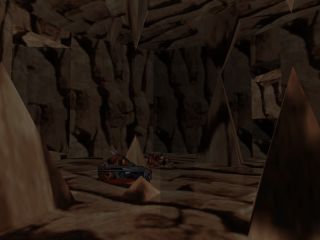 Gameplay Type: SP
Requires: Duke Nukem 3D v1.3d
Filesize: 17.37 KB
Level includes: multiple difficulty settings

Download: Island1 (283)
Other releases by Georg Buol: The Base
Know of any other maps from this author? Let us know
Mapping template:


===========================================================================
Title                   : Island1.map
Date Finished           : 5/27/96
Author                  : Georg Buol
Email Address           : georg.buol[at]computerhaus.at
Other Files By Author   : Geo1.map
Misc. Author Info       : 18 year old Austrian who is right in the middle
                          of his final exams and should rather spend his 
                          time on learning than on BUILDing maps.

Description             :            <>
                          Duke is stranded on a remote island where the
                          aliens plan on constructing a new base. Lots of  
                          secrets (try to find them all!!), bad guys and
                          cool rooms. There will be at least two more levels 
                          with this theme (coming as soon as I figure out 
                          how to compile your own .GRP-files)

Additional Credits to   : 
===========================================================================

* Play Information *

Episode and Level #     : E1M8
Single Player           : Yes
Cooperative 2-4 Player  : Not yet
Dukematch 2-4 Player    : Not yet
Difficulty Settings     : Yes, use commandline parameter /s(0-3) 
                          or dnskill(0-3) during the game
New Sounds              : No
New Music               : No
New Graphics            : No
Demos Replaced          : None

* Construction *

Base                    : New level from scratch (my 2nd level)
Build Time              : 30 hours
Editor(s) used          : Build
Known Bugs              : One HoM-effect after the Shotgunshell-room

* Copyright / Permissions *

You MAY NOT use this level as a base to build additional
levels.  

You MAY distribute this WAD, provided you include this file with
no modifications.  You may distribute this file in any electronic
format (BBS, Diskette, CD, etc) as long as you include this file 
intact.

***************************************************************************

If you have any suggestions or if you want to get the newest version of 
this level (or one of my other level), feel free to e-mail me.

HAVE FUN!!

							
Top of the page